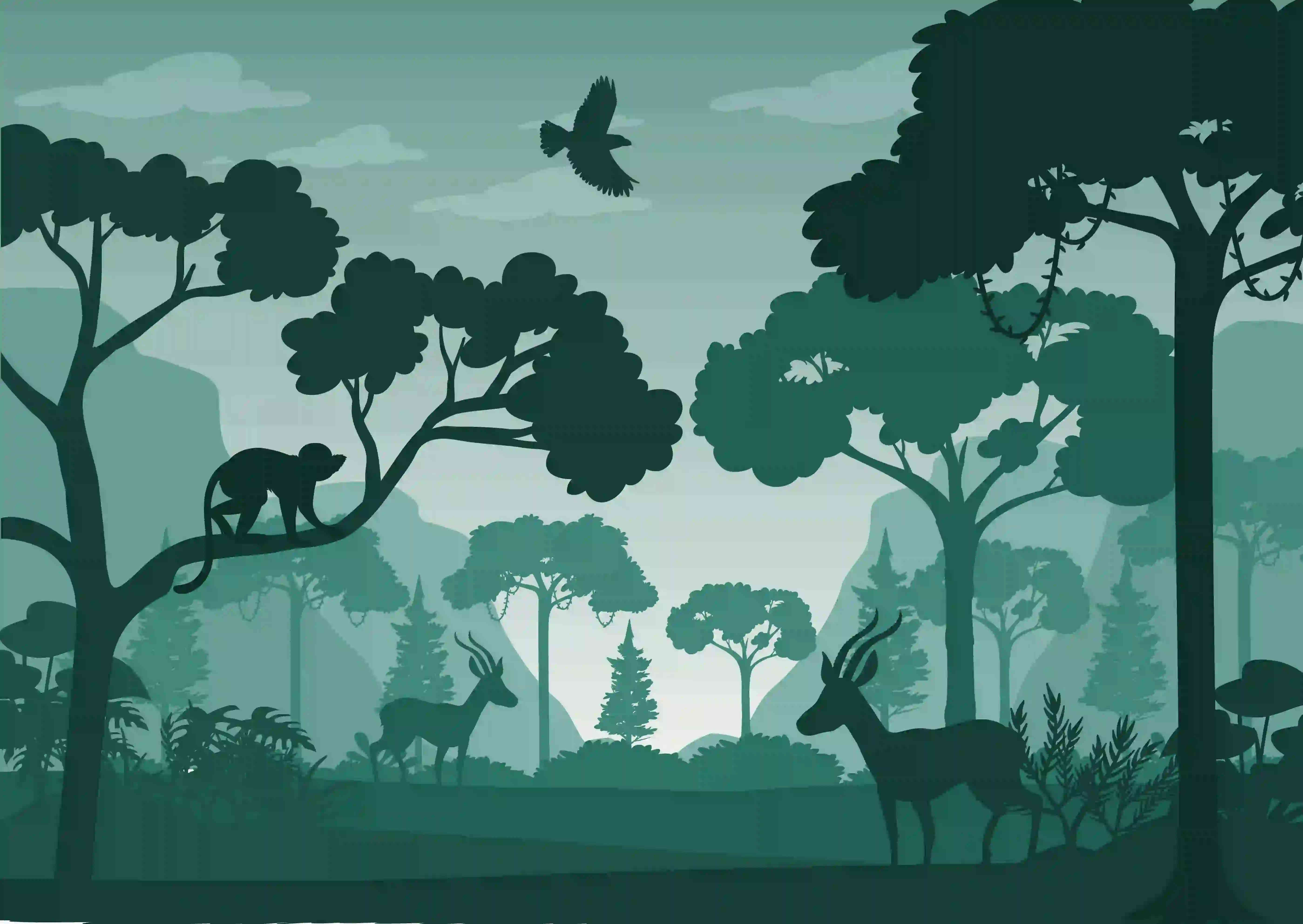 The Ranthambore Safari Tours
Kanha National Park - Madhya Pradesh
Kanha National Park - Madhya Pradesh
About Park :
Kanha National Park is located in Madhya Pradesh's Maikal range of Satpuras, which constitutes the central Indian highlands.It's fascinating to note that the national park is now known as the Tiger Reserve and is being hailed as one of the best wildlife refuges in the world.
Kanha National Park, which spans two revenue districts, Mandala and Kalaghat, was established as a reserve forest in 1879 and reclassified as a wildlife sanctuary in 1933.
In 1955, it received another promotion and became a national park.
The Kanha National Park covers an area of 940 square kilometres in the Maikal series of hills. The total size of the Kanha Tiger Reserve, including the core zone and buffer, is 45 square kilometres.
The landscapes and surrounding rich meadows, as well as the woody strands and dense maroons of forests, provide magnificent sightseeing opportunities for nature lovers. The clear streams that run through the dense jungle purify the area and enhance the land's beauty and cuteness while also enhancing the wildlife. Rudyard Kipling, a well-known author, drew inspiration from this vibrant land for his masterpiece, "The Jungle Book."
The Kanha National Park is a great habitat for a diverse range of wild wildlife, including big tigers, the most populous Barasingha, and innumerable types of plants, birds, reptiles, and insects. With its well-developed infrastructure created specifically for them, this reserve has captured the interest of many tourists from all over the world.The Bammi Dadar, also known as Sunset Point, is the best place to be in this area to have the most fun.
Safari Timing in Kanha National Park
04 WD Open Jeep safaris are the best way to see wildlife in Kanha National Park's dense, rich green jungle.At predetermined times, 04 X 04 open Jeeps carrying tourist groups or individuals travelling with a knowledgeable naturalist are permitted entry. Kanha National Park has four separate zones where you can take Jeep Safari tours. Kanha, Sarhi, Mukki, and Kisli. You can purchase an entrance ticket from the booking window at the national park's entrance gate, online, through travel agencies or tour operators, or, if available. The other costs, aside from the entrance price, are the vehicle and guide fees.
Vehicles Permitted to enter inside the national park in each shift:
| | | | | |
| --- | --- | --- | --- | --- |
| Safari Zones | Kisli Zone | Kanha Zone | Mukki Zone | Sarhi Zone |
| Morning Shift | 18 | 40 | 40 | 27 |
| Afternoon Shift | 18 | 40 | 40 | 27 |
| | | |
| --- | --- | --- |
| Timings | Morning Safari | Afternoon Safari |
| 16th October to 15th February | Sunrise to 11:00 AM | 02:00 PM to Sunset |
| 16th February to 15th April | Sunrise to 11:00 AM | 03 PM to Sunset |
| 16th April to 30th June | Sunrise to 10:00 AM | 03:30 PM to Sunset |
Some Essential Tips for the Visitors :
At Kanha afternoon shift of Jeep Safari remain close for visitors Every Wednesday.

Morning & Afternoon both the shift remain close on Holi festival (In March)

Full Name of every visitor

Age & Gender

Nationality

Any Identity proof details like Passport, Driving License, PAN Card or Voter

I D Card.

Visitors are required to carry the same ID proof in original at the time of visiting the national park.
Geographic Information Regarding Kanha National Park :
| | | | |
| --- | --- | --- | --- |
| Total Forest Area | 1945 square kms | Core Area | 840 sq. km |
| Establishment Year | June 1955 and was designated a tiger reserve in 1973 | Type of Forest | Dry deciduous forest |
Travel Information
By Air - Nagpur at 266-km is the nearest Airport to visit Kanha National Park and is linked up by various domestic airline services with Mumbai.
By Rail - Jabalpur at 169-169 km the convenient rail head to visit the Kanha National Park.
By Road - Kanha National Park is well-connected by road with Jabalpur 175-km, Khajuraho 445-km, Nagpur 266-km, Mukki 25-km, Raipur 219-km.
the accesses are Koshi - Kanha (9 km), Kishi - Katia (4 km), and Kishi - Mukki (32 km). There are regular to and fro bus services available from Jabalpur to Kanha.
Places to Visit Near Kanha National Park
Bandhavgarh National Park

- Bandhavgarh Tiger Reserve, located 250 kilometres from Kanha Reserve, is most well-known for having India's largest tiger population. The Bandhavgarh region, which served as the hunting preserve for the Maharaja of Rewas, is also the ideal location for the uncommon species of white tigers. Additionally, there is the well-known Bandhavgarh Fort, where one may view a variety of tiger species as well as historical legends from the prehistoric age.
Pench National Park -

The Pench National Park is famous for being the better half of Rudyard Kipling's imagination when he visited two of these locations on his tour of India to find Indian fauna. The Pench region is located 758 square kilometres away from Kanha National Park, 357 kilometres away, in the southern Satpura Hills, which border Maharashtra. To learn more about Rudyard Kipling's creative universe while immersed in the reserve's natural environs, the Pench region offers the Kipling Country Tour and Tiger Tour.
Tadoba National Park -

This reserve is best known as Maharashtra's oldest national park. Located near the MP border and close to Kanha Reserve, the Tadoba National Park spans 120 square kilometres at an elevation of 200 metres. Wildlife enthusiasts regard this location as "heavenly" and have dubbed it the "jewel of Vidarbha." The name Tadoba was derived from the local deity known to the Gond tribes as "Taru," who was slain in a titanic battle with a tiger. Tadoba, one of India's 28 tiger reserves, is home to a diverse range of wild creatures, including approximately 50 tigers and other endangered wild species.

Jabalpur -

This is the city of multi-coloured marble rocks, and many historical forts and antiquities may be found in the natural beauty's environs. Jabalpur, Madhya Pradesh's third largest city, is best known as the "Land of the Gondwana." Tourists can learn about cultural assets as well as wildlife treks in the form of the Khajuraho Group of temples, Balancing Rock, Chausathyogini Temple, Mandla Fort, and more, which are quite close to Bandhavgarh.
Photo Courtesy: Google
Related Posts
Latest Posts